Arul Selvan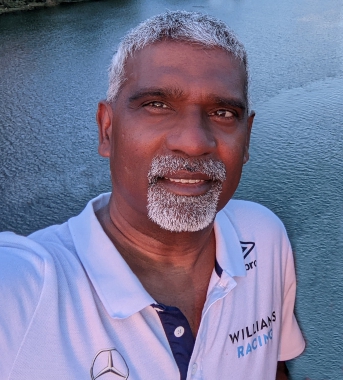 A little about me
I was born in south India and grew up in a city called Madras (renamed to Chennai) which is one of the few big cities in India. Growing up in the 70's and 80's were much different from today regardless of which part of the world you grew up. Back then we did not have internet, social media, or video games, hell we did not even have landline phone until I was in high school. To play, we actually had to go out and play with real friends; for communication, we simply talk to friends in person; walked everywhere (a good thing) and the only available commute to go anywhere far are either metro bus or train. It was simple times back then and I sure do have lot of fond memories of having lot of fun without technology we take it for granted today. Lastly, it is hard to believe even for me that I was physically very strong back then practicing (and teaching) martial arts for several years during my early college days. I was a first degree black belt in Shotogan style contact karate (yeah, we really hit each other above waste and below neck hard as hell )--- which is one of the reason my back is broken today but how it happened is a longer story for another day. I came to US in 1986 and lived in many exiting places like Madison WI, Chicago IL, FortCollins CO, Atlanta GA. Currently, I live in Dallas, TX, a great city but nothing compared to all the other exiting places I have lived so far.
Hobbies
I had many real hobbies in the past like fixing electric, electronic devices, computers and working on cars etc but I am too old for all that now. Today, I basically watch lot of science & technology YouTube videos, as per TV shows my favorite ones are Real time w/ Bill Maher and John Oliver on HBO. Besides TV/YouTube, I do enjoy backyard grilling with both traditional grilling of sausages, brats, chicken, stake & Hibachi style cooking as well as fusion grilling with Indian spices.

I am fascinated to read/learn about astrophysics, theoretical physics, space time, theories of blackhole, time travel, human brain, free will, SETI, science vs religion/god etc. I am also fascinated read/learn about ancient civilizations from Mesopotamia, Indus Valley, Egyptian, Mayan all the way to modern Inca's. I have a bucket list to visit all the places where the ruins of these civilizations are found & I am about 10% done on my bucket list! In addition to all of these, I am also passionate about modern technologies as well. I do spend major portion of my time reading/researching about Cybersecurity, Linux OS & kernel, Docker, cloud technologies, whitehat hacking, medical devices etc. I also contribute to opensource forums like StackExchange, Docker, Github etc as I find time to help/share with opensource community.
Education
I went to college mostly in Chennai where I grew up from childhood to early part of my adult life. I graduated from University of Madras with masters degree in Marine Geology (yeah, you heard it right, GEOLOGY!) and it has nothing to do with what I did for living in the last 37+ years. After finding out there is no future with my education in geology, I went back to school again and got my second masters degree in engineering (Remote Sensing --- a study of aerial and satellite image interpretation/processing for mapping, cartography etc) from Anna University, Madras, again still nothing to do with what I do today. Finally, I am a continuing Ph.D student at University of Wisconsin-Madison since 1987 probably forever!
Present & past employers
At present time, I am semi-retired doing limited consulting work at SelvanSoft LLC since Apr 2022 and prior to that I was working for AMN Healthcare, before that I was at RealPage from Dec 2015 to Oct 2021. The other companies I have worked in the past include Capital One, RealPage, Experian, McAfee, i2 Technologies (now BlueYonder), Raytheon ... etc in Dallas area. Before moving to Dallas, I worked for GE (maker of the best CT scanners in the world), for about a year. Last but not least, I started my professional career as a Software Engineer with a small but great little company in Atlanta called Erdas Inc (now Hexagon Spacial) that makes Image Processing and GIS software. I do keep in touch with many of the very smart people (Friends at ERDAS) that I came to know during my 5 years at ERDAS Inc,
---

Copyright © 2008- Selvans.net. All Rights Reserved.
Last updated: Sep 17,2023